The Palestinian woman competing in dressage on a world stage – Middle East Monitor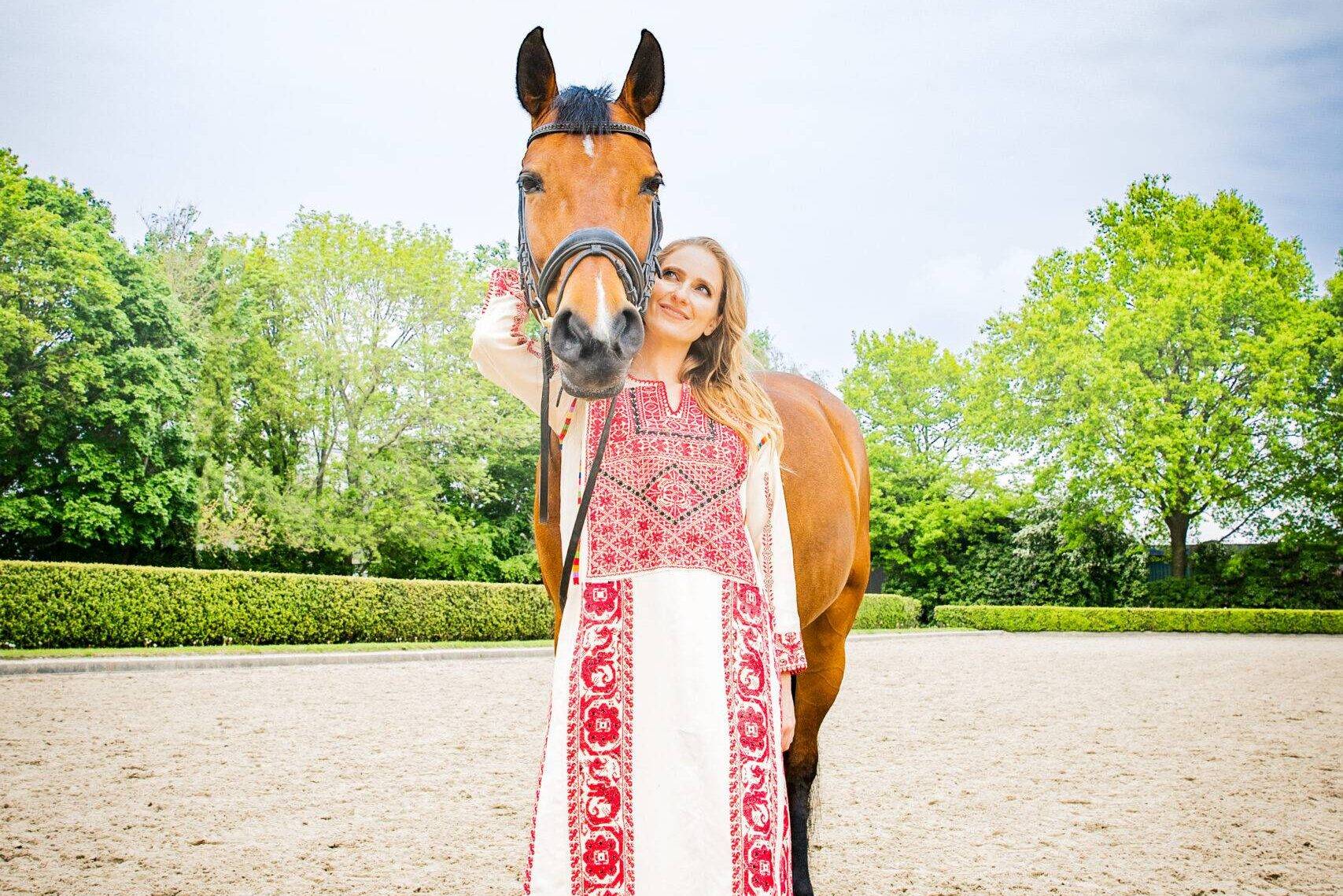 Saddled up a few metres off the ground to the sound of rhythmic jinking hooves, gleaming bridles and the earthy scents of a horse, is when Diana Al Shaer feels most exhilarated.
Chair of the Dressage Committee for the FEI Regional Group in MENA, the 35-year-old equestrian's introduction to horses came at the age of 11 when her family, based in Moscow, put on a DVD of the European Dressage Championships.
Such was her instant fascination, she stood in awe under the sun all day the first time her family's horses settled into their new stable.
"I remember the very moment I saw the horses on the first day they were brought home, I fell in love straight away and couldn't look away even though I was standing under the sun," remembers Diana.
"Horses were a passion of my father's, he used to ride as a young child when my family spent time in Syria after being forced to leave Palestine as political refugees."
Diana was born in the Soviet Union to a Russian mother and a Palestinian father who had emigrated there in 1975. Her grandfather was the first Palestinian ambassador to Russia and her father followed him in his footsteps.
Nevertheless, she was drawn to pursue a career in sports. Having competed all over Europe in the past decade, she trained with Jan Bemelmans in Germany and was coached by Danish Olympian Anne van Olst in the Netherlands.
READ: Finland pledges $21.8m to support Palestine refugees
Diana's multicultural upbringing prepared her well for a career that demands plenty of travel and interaction with different cultures. She has entered many international competitions as well as produced some significant results as a former Russian Federation equestrian team member.
She admits she chose a different path from her family, whose history is steeped in the field of politics. "I'm not a big fan of politics, it's not interesting or engaging to me so I followed my passions and continued in sports and culture." She notes, however, the diplomatic roots in her family eventually carried into her work after a life-changing visit to Palestine for the first time in 2017.
Following an invitation from the Palestine Equestrian Federation, she scheduled a trip to the region during which she witnessed and experienced first-hand the lives of the Palestinians around her and the daily injustices to which they were subjected by the Israeli military, such as the checkpoints which restrict freedom of movement.
"I visited Palestine for the first time six years ago. It was always a sensitive topic for me and my family because they lost their homes and were scared for me to go alone. But the trip changed my whole vision and point of view on things, including my identity and career because I travelled there as a Palestinian, not as a tourist," explains Diana.
I was still competing for my mother's country, Russia, at the time but my position changed when I returned after going through all the checkpoints which left me in complete shock and distress. I couldn't believe that something like that exists still today and that Palestinians must struggle through this every day of their life.
Amnesty International has counted at least 593 Israeli checkpoints and roadblocks in the occupied West Bank. Some are fixed, while others are "flying" barriers able to be moved to different locations with no warning. Their purpose is to put a check on the Palestinian movement while aiding and abetting the illegal Jewish settlers as they seize more Palestinian land to build more settlements, which are illegal under international law.
The equestrian was also horrified by the 11-hour-long security checks and waiting time at Tel Aviv's Ben Gurion Airport. "This is a normal process for Palestinian travellers but nothing about this should be normal," she said.
This compelled Diana to switch her allegiance and represent Palestine as a dressage rider at the International Grand Prix. She progressed as the first Arab woman to compete at the World Equestrian Championships in dressage in Denmark last year.
Dressage is a form of horse-riding discipline, often compared to ballet due to the skill and mastery it requires from both rider and horse to conduct all exercises in exhibition and competition.
The harmony and trust between a horse and rider are key for such an art, explains Diana. She has no doubt that she inherited this quality from her father, whom she describes as an inspiration and her greatest supporter.
"When my father decided to ride again, he practised jumping, but I much prefer the dressage discipline because of its elegance and beauty. During the world championships, to represent my country and build a bridge between sports and culture, I asked the camp in Jordan to decorate my uniform with Palestinian embroidery."
The traditional, elaborate cross-stitch embroidery, known as tatreez, is unique to each community, so the village to which the wearer belongs can be identified from the design.
"They used the pattern from Jaffa where my family is from, and it was so special because I was able to perform and bring to the international arena something special made by the hands of these Palestinian women from refugee camps who have their unique stories too."
This shift of focus in her sports career, she suggests, can create change more broadly. "Representing Palestine through sports and culture is effective because these are two very powerful tools of communication. By taking the political parts away, it brings the conflict to a more personal level, and you can deliver the image and struggles of the country through different stories of the people, it's more authentic. I realised this is my true calling."
READ: 'Even as a proud Brazilian, I'm a daughter of a Palestinian refugee'
For Diana, this is also a continuation of the diplomatic mission rooted in her family.
Today, Diana travels to the UAE every three to four months to train the upcoming top dressage horse riders and to also work with the national federation to develop programmes and organise masterclasses.
As chair of the Dressage Committee for the FEI Regional Group in MENA, the equestrian is working hard at promoting the art of dressage in the region and training aspiring riders in this field of sport.
"It's a privilege to be able to combine my passions for sports and culture to represent my identity and guide aspiring riders. The dressage discipline of horse riding is still new in the Middle East but is gaining attention among the women who want to participate because of its elegance, which is exciting."
The next adventure on which Diana and her horse, Unazalee de Massa, are embarking is to qualify for the Paris Olympic Games, scheduled to take place during the Summer of 2024. "My focus right now is getting me and my teammate [her horse] strong for the Olympics in Paris, and to keep representing Palestine wherever I ride."